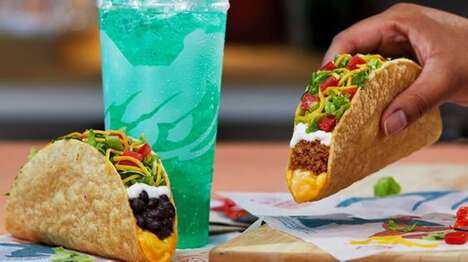 Though Taco Bell recently axed a significant number of items from its menu, this hasn't stopped the brand from testing out brand new offerings like the Cantina Crispy Melt Taco.
The new Cantina Crispy Melt Taco consists of a white corn taco shell filled with seasoned beef and Taco Bell's signature three-cheese blend. The taco also features melted nacho cheese sauce, shredded cheddar cheese, lettuce, diced tomatoes, and reduced-fat sour cream. The result is an ultra-cheesy creation that can also be made vegetarian by swapping the seasoned beef for black beans. The Cantina Crispy Melt Taco can be enjoyed on its own or as part of a $5 Cantina Crispy Melt Taco Box, which also includes a Beef Chalupa Supreme, a Crunchy Taco, and a medium drink.
The new Cantina Crispy Melt Taco is currently being tested at Taco Bell locations in Detroit, Michigan.
Image Credit: Taco Bell