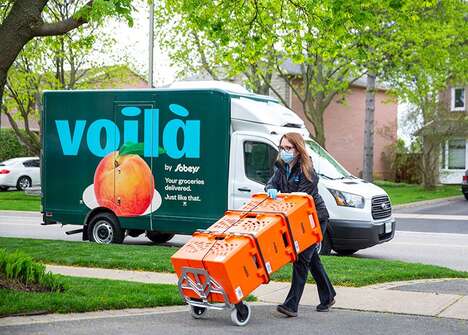 Voilà by Sobeys is a new grocery delivery service that aims to make "to-your-door" deliveries more accessible for customers across Toronto. The service is currently available to residents of Vaughan, Mississauga, Brampton, Caledon, North York and Etobicoke with expansion to other areas across the GTA coming soon.
With quick and convenient grocery deliveries more in demand than ever — especially in light of the ongoing COVID-19 pandemic and social distancing safety measures — consumers are seeking access to high quality and fresh products without having to wait in long store lineups.
Voilà by Sobeys offers a unique home delivery experience thanks to temperature control smart trucks that guarantee freshness. Additionally, each truck is equipped with "last-mile routing management" tech that ensure deliveries are made quickly and efficiently. Those looking to place an order can visit www.voila.ca or can make orders via the Voilà app on both iOS and Android operating systems.
Image Credit: Sobeys