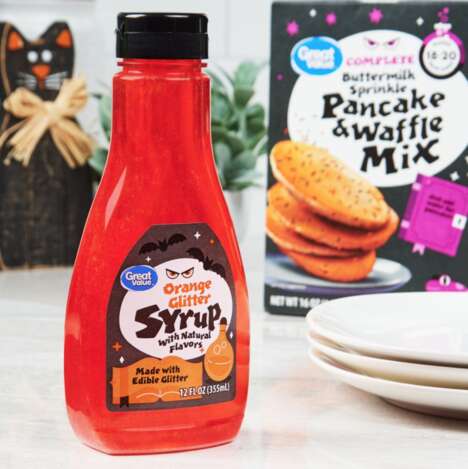 If you're looking to give your breakfast a spooky Halloween makeover, look no further than Walmart's new Orange Glitter Syrup.
Walmart's new Orange Glitter Syrup is essentially a Halloween take on maple syrup. Sold under Walmart's Great Value brand, the syrup is made from real edible glitter and other natural flavors. The result is a bright orange syrup, that is flecked with little pieces of glitter. When added to pancaked, waffles, or virtually any other baked good, the syrup adds a bright orange tinge that just screams Halloween. In fact, Walmart even sells a Complete Buttermilk Sprinkle Pancake & Waffle Mix that can be paired with the new Orange Glitter Syrup for a deliciously spooky breakfast.
Available online or in-stores, Walmart's new Orange Glitter Syrup is here for a limited time only.
Image Credit: Walmart