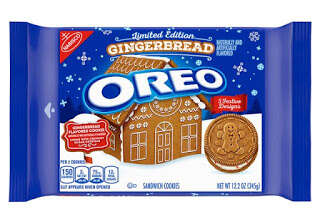 With the holidays quickly coming up, Nabisco is rolling out its deliciously festive new Gingerbread Oreo cookies.
As many consumers may have noticed, gingerbread is not exactly a new Oreo flavor. However, the previous Gingerbread Oreo cookies featured golden Oreo wafer cookies with a gingerbread-flavored creme in the middle. Now, the new version features the brand's first-ever gingerbread-flavored wafer cookies. These spiced sandwich cookies will be paired with the brand's signature vanilla creme, but with the addition of crunchy sugar crystals mixed in. The cookies will also feature one of five different festive holiday designs on each wafer cookie.
The new Gingerbread Oreos have already begun to roll out nationwide and should be available widely following Halloween.
Image Credit: Nabisco