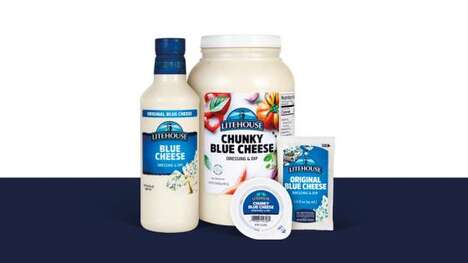 Right before the Super Bowl, Litehouse released two new products to be served at parties, one of them being the Chunky Blue Cheese dip. Perfect to use as a dressing or a dip, this product features 25% more chunks of premium blue cheese than its original iteration. According to the brand, this makes it ideal for serving alongside a tray of veggies to be enjoyed among friends.
The ingredient list boasts buttermilk, homemade mayonnaise and spices, lending itself perfectly to hamburger or sandwich toppings. According to the brand "While ranch dressing is a fan favorite, our blue cheese dressing also drives the category in January and February."
The product is available in jugs, mini containers, and bottles.
Image Credit: Litehouse