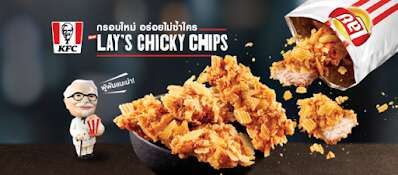 In one of its most unique collaborations to date, KFC has teamed up with Lay's in Thailand for a new product called 'Lay's Chicky Chips.'
The interesting new menu item from KFC Thailand consists of fried chicken tenders encrusted with Lay's Potato Chips. According to promotional images from the new release, the potato chips on the tenders appeared to be of the ridged variety, however, Frito-Lay's doesn't use the Ruffles brand in Thailand. Regardless, the addition of the chips gives the chicken tenders a delightful crunch that makes them extra addictive.
The new Lay's Chicky Chips can be ordered a la carte, as a Chick N' Share, or as part of The Box individual meal from KFC's Thailand locations.
Image Credit: KFC Thailand