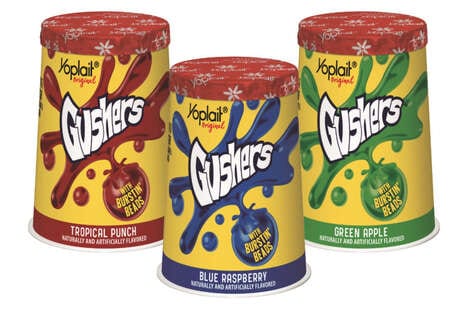 Yoplait has introduced a series of candy-flavored products inspired by Sour Patch, Starburst and Hershey's Cookies 'n' Creme chocolate bar, and its newest creation is a trio of Gushers yogurts with bold, bursting fruit flavors. The new yogurts feature nostalgic fruit snack flavors like Tropical Punch, Blue Raspberry and Green Apple, which are both naturally and artificially flavored.
Beyond flavor and the bright color of the fruit snacks, one of the most important parts of the Gushers experience is the way the texture-rich fruit snacks burst when they're bitten—so the Yoplait Gushers yogurt trio boasts bursting bubble beads that remind of the original snacks.
Available in six-ounce cups, the candy-flavored yogurt snacks are perfect for kids with a sweet tooth or nostalgic adults who desire a simple grab-and-go treat.
Image Credit: Yoplait